Are you feeling the call to expand your business or start a new one?
Grow Your Business is a streamlined program giving you a blueprint to achieve success while fostering a healthy mindset for a fulfilling life.
I've boiled down everything I've learned in 19 years as a conscious business owner and I want to share the most important lessons I learned along the way to help you grow the business you've always wanted.
"The lessons I learned from Lee's entrepreneurial course helped give me the confidence to leave my day job and start my own design agency. I gained a new foundation for the way to run my business so I could generate revenue based off my natural talents. I learned critical tools and techniques that allowed me to become my own boss which ultimately helped me land the job as the Art Director for Lee Harris Energy. This course helped me find a path to freedom and do creative and spiritual work that is helping others every single day."
Trent Barfield - Art Director for Lee Harris Energy
Some of What We'll Be Covering...
Starting on September 28th, we'll begin delivering the course materials, with new modules being delivered every few days over the following two weeks.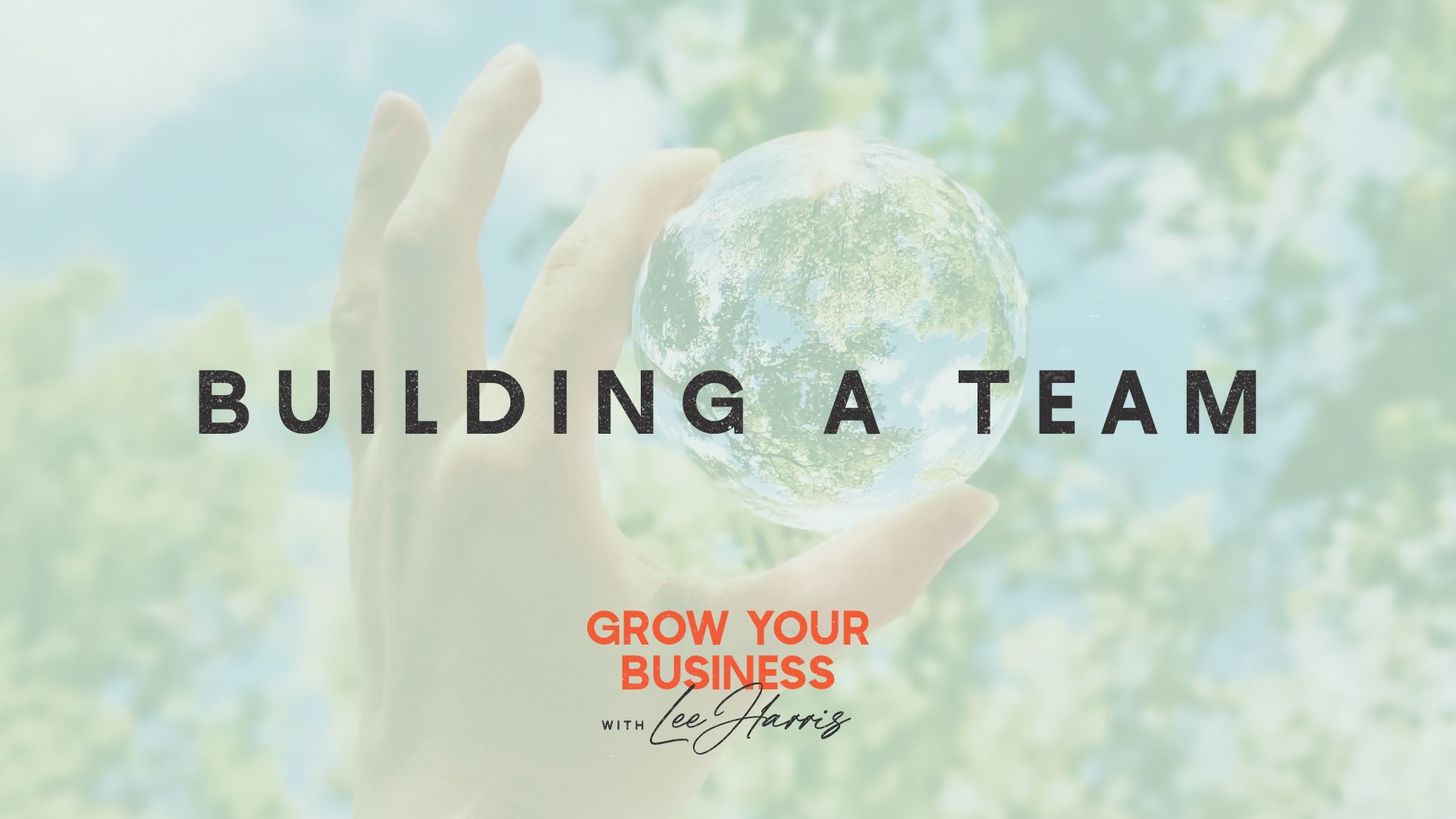 "A journey of a thousand miles begins with a single step."  
- Lao Tzu
Hi - I'm Lee Harris,
For the past decade, I've been teaching people all over the world both the practical steps to grow a business as well as how to develop the mindset necessary for a conscious business owner to continue to enjoy their work and maintain ongoing success.
Success looks and feels different for each of us. I began my work back in 2004, as an intuitive and channeler, giving private readings to people for a minimum donation of £10 ($15) for my 90-minute sessions. 
It was at a time when the field of healing, intuition, and metaphysics was still relatively on the fringes compared to what we see today. I didn't have a grand ambition, a business plan, formal training or any idea I could have ended up where I am today. I didn't even know if anyone would want a reading from me when a friend suggested I try doing it as a job.
Back then, I literally couldn't believe that working in the field of transformation could be my job. I was grateful about that from day one and 19 years later, I still am, even though my work and its reach have expanded radically.
Today, I run a 7-figure business, lead an 18-member international production company of brilliant creatives, and the work we create reaches and serves millions every month, many of whom receive my offerings completely for free. 
The work reaches people in so many ways now; Videos, Audio Books, Workshops and Retreats, Social Media content, Online Courses, a Weekly Video Podcast, Original Music, and a beautiful monthly membership community called, THE PORTAL.
All of this makes me smile to write, especially because for so many years, I felt nervous to raise my private session prices each time I did it. 
If I hadn't been able to lean into doing that, none of the above would now be a reality. It is how I funded the growth of my work and business.
I have had to continually learn to grow in all ways (not just financial) in order to become more beneficial to more people. That has been one of my greatest lessons.
None of this journey would have been possible if I hadn't been willing to learn and grow. Scared to grow, yes, but willing enough. That's really all you need. Enough willing to learn and grow. 
And that's the thing about the path of entrepreneurship, you get to grow and change; in fact, it is a requirement of the path. 
Metamorphosis is the journey of any "alive" entrepreneur and if you are willing to step into that way of working, it becomes not only a magical journey for your personal growth, but you can become a connective force and an amplifier in your community or the world at large.
Our value is our time, our energy, and the uniqueness of our being. 
When we learn to better value ourselves, we are better able to value others, and they too can better value us. It becomes a circle.
I can attest that creating work and services which help others has been one of the most rewarding growth journeys of my life. And yet, in over a decade of coaching other healers, creatives, and entrepreneurs, I repeatedly found that issues around our value and worth are often a sticking point when it comes to growing what we do in the world. And for that reason, finding the support we need and the confidence to hold a grander vision, without sacrificing our personal wellbeing, is a crucial balance and takes time to understand and refine. 
There is a bigger map available to all of us, and when we align with that, we get to serve more effortlessly and abundantly. 
I created GROW YOUR BUSINESS to help you explore that map and upgrade several of these areas in your own life. 
I created it to help you own your work and your value in the world in a deeper, truer way.
You are needed, and now is your time.
Are you ready to take your work and your life further?
If it resonates to join me and your fellow attendees for this journey, I'd love to work with you and help you upshift both your work in the world and your experience of it!
Big love,
Lee
Video Modules
Nine teaching areas from Lee, delivered in user-friendly modules designed for you to go through at your own pace, with timestamps of key points provided.
Downloadable Workbook
We've designed a 78-page downloadable workbook to accompany all the course modules that will allow for deeper learning, writing exercises, and reinforcement of the course material.
Live Q&A Video Calls with Lee
On October 9th and 23rd, Lee will lead two 90-minute live Clinic Calls where you can ask questions on the course material or your personal journey.
Discussion & Networking Forum
We've created a private discussion forum where we'll provide prompts to get your wheels turning and opportunities to connect/network with other participants and promote your business or ask for feedback on your business ideas/offerings.
Bonus Materials
We'll be providing you with bonus interviews that Lee has participated in on different business related strategies to provide practical advice for real world business solutions.
Lifetime Access
You'll have ongoing access to all the course materials and the Discussion Forum so you can revisit the materials as often as you like and continue to connect with fellow entrepreneurs for support and advice.
The Live Clinic Calls with Lee
Lee will lead two live-video Q&A calls on October 9th and October 23rd at 1 pm Pacific / 4 pm Eastern / 9 pm UK. Each call will last 90 minutes. These will offer you a chance to directly ask Lee your questions and hear from your fellow participants about challenges and solutions in their journey. If you can't be there live, not to worry. We'll also offer the opportunity to submit questions in writing in advance and provide you with full replays of both sessions so you can watch at your convenience.
Some of the things you will gain from this program...
A Shift in Mindset
This course will change the way you think and feel about your worth, your money, and your value to others that will lead to greater empowerment and abundance in your endeavors.
Behavioral Changes
The course modules will give you the necessary foundation to change your behavior in the world; actioning practical steps to increase your reach and your income.
Energetic Support
You can expect energetic support from Lee, the team, and the community of fellow course participants to move you beyond patterns of limitation and fear and realize the value of the gifts that you're bringing to the world.
Confidence to Execute
 The teachings you receive will give you the confidence to create effective marketing, communicate your value to others, raise your rates effectively, execute great one-on-one sessions, scale your business comprehensively, and so much more.
Testimonials about Lee's last Entreprenuerial Course...
James R.
"I'm so grateful for the transformative experience of this course. This has been the most incredible value-for-money offering that you have provided. I'm not sure how many others in the group have the experience to make comparisons, but I certainly do - and I am SO blown away by the thoroughness and integrity of what you've created."
Tracee K.
"Working with Lee Harris and his team has irrevocably shifted and fortified the clarity and direction in my work. The energetic support, inspiration, and information is still being distilled months later! Lee not only informs and ignites, but seems to infuse his courses with a sense of intentional magic that leads you to truly feel and understand that anything is possible in both the visionary and practical sense."
Jill G.
"My experience was both affirming and life-changing. I gained a much deeper and broader sense of my work and how I show up in my life. I left feeling empowered, inspired, and ready to make bold shifts and changes in my business in order to show up, stand up, and impact the world. I'm so grateful for Lee's grounded wisdom and playful sense of humor in all that he does."
Christine L.
"I have found so much through this course - my power, self-confidence, my true calling, and my tribe! Since taking the course, so much has shifted. Just recently I have started my own business in doing constellation work online with people from all over the world. Without this experience, I would not have come this far."
Rebecca M.
"It is with a full heart and deep appreciation I send this note of gratitude for this wonder-filled journey with this course offering. Your "Big Love" shines through every Module. This has built my confidence and brought me SO MUCH clarity. I feel prepared and excited for my next steps. Thank you."
This course is an investment in your future.
It's a powerful training that combines practical step-by-step guidelines and energetic support to get you to where you want to be. I am confident that if you apply these lessons to your work, this course will pay for itself many times over in greater power, value, abundance, and worth - both inside yourself and in the world.
- Lee
Frequently Asked Questions
When are the course materials available?
What are the dates and start times of the live Q&A calls with Lee?
Do I need to be online at specific times or can I participate on my own schedule?
Does the material expire or can I come back and revisit it whenever I want?
I took Lee's course called Own Your Value already. Is this an all-new course or the same thing?
How long are the video modules?
What if I want to take the material with me to listen to in the car, subway, airplane, while walking on the beach, etc?
How does the private discussion forum work?
What is the refund policy?
Lee is a globally acclaimed Energy Intuitive and Transformation Teacher who offers grounded, practical teachings focused on helping conscious, intuitive, and sensitive people heal, thrive, and live a better life. His celebrated books, Energy Speaks and Conversations with the Z's, became instant bestsellers and his intuitive messages reach millions of people every month via his free and highly popular monthly Energy Update Videos. His monthly members' community, The Portal, with almost 6,000 members, offers tools and interactive live teachings to go deeper with his work and be supported by and connect with a worldwide community. With over a hundred audio recordings and online courses for navigating a soul-led life with clarity, empowerment, and optimism, Lee also mentors creatives, healers, and entrepreneurs on how to bring their gifts and talents into the world via his free Impact the World Podcast. His retreats and workshops held around the globe, are adventures into the deepest aspects of living, loving, and awakening. As a musician and artist himself, Lee believes deeply in the power of our creativity for healing, and his acclaimed albums including Awaken, I Am Peace and Timelines (produced with Davor Bozic) have charted as high as No. 2 on the iTunes & Amazon New Age charts.