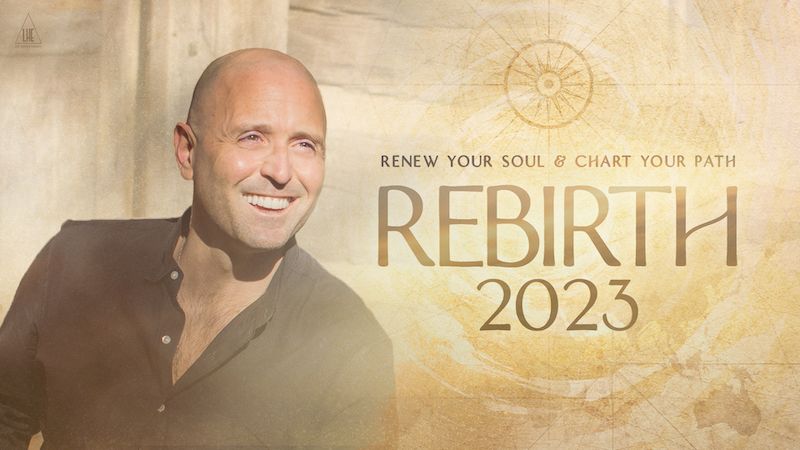 Join Lee Harris for an Immersive Workshop Experience Online
Prepare yourself to navigate the year ahead with channeled teaching, practical workshop sessions, Q&A movement practices, self-care exercises and more.
Here's what people are saying about their Rebirth experience from years past...
A Message from Lee's guides, the Z's
"
Consciousness is rising on the planet, and it is asking all of you to become higher-minded and higher-hearted. You get to access your high heart when you are able to broaden your awareness, broaden your feelings, essentially expanding your energy field beyond the thoughts, emotions, and identity that you had previously wrapped around yourself. So, really all that will be taking place within the Rebirth experience is an opportunity for you to accelerate your growth and your connection to light."
This course is for you if you want to...
Rise in Your Spirit
Lee and the Z's will work with you and your energy field in a way that will allow you to feel fortified, nourished, and galvanized for the year ahead, so that you can continue to rise in your life, rise in your consciousness, rise in your spirit.
Are you ready to remember how vast you are inside, how connected you are to universal energy and light? The Z's invite you to remember how extraordinary you are. Extraordinary - which means that you have access to the extraordinary within you. Will you allow your extraordinary soul to take the lead ?
Focus Your Intentions
We will be focusing YOUR Intentions for 2023 while gently releasing the energies of 2022 that you no longer need. Discovery and magic will be a big part of this as Lee will be examining themes for the year ahead and channeling the Z's on 2023 and beyond.
Recall Your Spiritual Fire
What do we mean by 'spiritual fire'? Some of you might know it as Kundalini energy. Some of you might know it as pure, unbridled life force. The Z's simply say it is allowing the size of your being back into your humanity...
Lee and the Z's will lead you to follow the path that you feel within yourself, allowing who you are and what you feel within to be your compass. Take the journey inward to understand more of who you are, why you are here, what you are here to do.
Here's what's included.

..
Lee Delivers Powerful Channeled Teaching from his Guides, the Z's.
Lee Delivers Practical and Applicable Techniques for Navigating the Year Ahead.
Lee answers a cross-section of audience questions related to the teachings and their lives.
Movement Master Steven Washington Delivers a Qigong and Wellness Session to Keep You Grounded.
We Provide Special Meditations, Energetic Practices and Self-Care Techniques Along the Way.
Lee has Hand-Selected 10 Sound Healing Tracks You Can Stream or Download to Help with Integration on your Path Forward.
An Exclusive Channeled Message from the Z's
This welcoming channeled message from Lee's guides, the Z's, offers a roadmap for the journey we will take together. The Z's also share some fascinating insights into how vast we are as souls and how vast the possibilities are for us as a collective.
Frequently Asked Questions
Is the material delivered in live broadcasts or can I participate on my own schedule?
Is all of the content available to me as soon as I register or do I need to wait for different modules to be released?
What will I get from this course and who are the Z's?
I took last year's Rebirth course - is this an all-new course with new information?
How does the private discussion forum work? Do I need Facebook?
What is the refund policy?
About Lee Harris
Lee is a globally acclaimed Energy Intuitive and Transformation Teacher who offers grounded, practical teachings focused on helping conscious, intuitive, and sensitive people heal, thrive and live a better life! His celebrated books, Energy Speaks and Conversations with the Z's, became instant bestsellers and his intuitive messages reach hundreds of thousands of people every month via his free and highly popular monthly Energy Update Videos. His monthly members' community, The Portal, offers tools and interactive live teachings to go deeper with his work and be supported by and connect with a worldwide community. With over a hundred audio recordings and online courses for navigating a soul-led life with clarity, empowerment, and optimism, Lee also mentors creatives, healers and entrepreneurs on how to bring their gifts and talents into the world via his free Impact the World Podcast. His annual Soul Magic retreats, and workshops held around the globe, are adventures into the deepest aspects of living, loving, and awakening. As a musician and artist himself, Lee believes deeply in the power of our creativity for healing, and his acclaimed albums including Awaken, I am Peace and Timelines (produced with Davor Bozic) have charted as high as No. 2 on the iTunes & Amazon New Age charts.
About Steven Washington
Steven Washington is the author of Recovering You: Soul Care and Mindful Movement for Overcoming Addiction, released in November 2022. As a former professional dancer who performed on Broadway in Disney's The Lion King, his love of movement inspired him to become the highly acclaimed Qigong and Pilates teacher that he is today. Steven lives a joyful life of recovery, and is passionate about helping others as they navigate towards health and happiness. He offers Qigong, Pilates, dance, meditation, laughter, and more through SWE Studio, a monthly membership on his website stevenwashingtonexperience.com.